ASTM A790 Duplex Steel S32205 Pipes, Duplex Steel UNS S32205 Tubing, Duplex Steel 1.4462 Pipe, Duplex Steel UNS S32205 Tubes Suppliers, Duplex Steel S32205 Welded Pipes, Duplex Steel 1.4462 Tubes, SAF 2205 Seamless Pipes, Duplex Steel 2205 Tubing, Duplex Steel S32205 Seamless Pipes Manufacturer in India.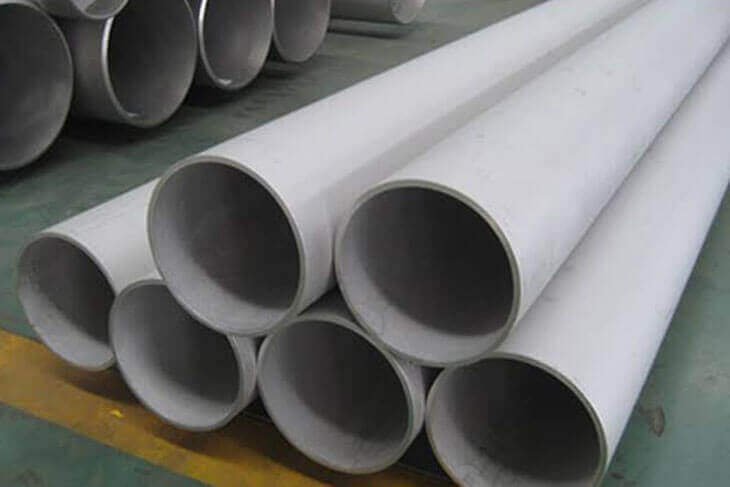 Dinesh tube India is a highly acclaimed manufacturer, supplier and exporter of Duplex Steel UNS S32205 Pipes manufactured according to national and international quality standards and various industrial requirements. Due to its high chromium, molybdenum, and nitrogen content, Duplex Steel UNS S32205 Pipes & Tubes demonstrates superior corrosion resistant properties to 316 and 316L in most environments.
Duplex Steel UNS S32205 Seamless Tubes, ASME SA 789 Duplex Steel S32205 Tubes Stockist, ASTM A789 Duplex Steel 2205 Tubes, Duplex Steel S32205 ERW Pipes, Duplex 1.4462 Pipes, Duplex Stainless Steel SAF 2205 Welded Tubing Supplier in Mumbai, India.
Duplex 2205 is a two-phase, ferritic, austenitic 22% chromium, 3% molybdenum, 5 to 6% nickel alloyed stainless steel. It is the most widely used duplex stainless steel grade and is characterized by high yield strength, doubles that of the standard austenitic stainless steel grades. It also demonstrates good fatigue strength, as well as outstanding resistance to stress corrosion cracking, crevice, pitting, erosion, and general corrosion in severe environments.
It resists localized corrosion types like intergranular, crevice and pitting. Duplex Steel UNS S32205 Tubes is resistant to chloride stress corrosion cracking (SCC) at temperatures of 150 degrees C and are appropriate replacements to austenitic grades, especially in premature failure environments and marine environments. Common Applications of Duplex Steel UNS S32205 Pipes include chemical processing, storage and transport, mining industry, marine applications, oil and gas extraction and processing, Pulp and paper industry – digesters, bleaching equipment, and stock-handling systems, heat exchangers, Biofuels plants, Marine and other high chloride environments, etc.
We conduct various tests to ensure the quality of these pipes tests like PMI test, IGC test, pitting resistance test, chemical/mechanical test and hardness tests, mechanical test, flattening/flaring test, macro/micro test, etc. We also provide third party inspection certificates along with our Pipes and Tubes. Our Duplex Steel UNS S32205 Pipes and Tubes are available in various sizes, shapes, dimensions, thickness, and forms, etc. We also customize these products as per the client's requirements at the most reasonable prices.